What to Wear From the Calypso Collection, According to Your Horoscope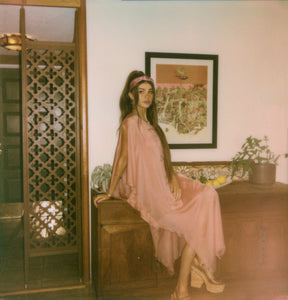 Your sunny season must-haves, as told by the stars themselves.
For the free spirits, beach lovers, and jet setters alike: we all know that bohemian style has no rules. In the uncharted waters of summer trends, embracing pretty florals and all things vintage can be difficult if you don't already have an arsenal of people you love to follow for outfit inspo. That's where astrology comes into play - your zodiac sign can actually influence your fashion choices more than you realize, serving as an internal fashion guide.
ARIES
(March 21 - April 19)
Fiery and passionate, Aries will do anything on a dare. A chic pair of shorts is ideal for Aries' on the-go flow and sporty vibe.
TAURUS
(April 20 - May 20)
Beauty-obsessed Taurus' have a flair for the finer things but hates big changes. As an earth sign (and a creature of habit), the Malibu skirt lends a sense of familiarity with enough versatility to dress up or down.
GEMINI
(May 21 - June 20)
With a propensity to rebel against routine and repetition, the twin star will enjoy versatile looks that complement both sides. Easily mix and match both Iris and Cassia into your wardrobe for all your summer plans.
CANCER
(June 21 - July 22)
Cancers seek comfort in protecting their hearts and energy. Layers are perfect for gentle Cancers and Scandal Italy helps enable them to stay sensitive by prioritizing sustainable fabrics and environmental-friendly practices.
LEO
(July 23 - August 22)
Leo's confidence makes them prone to being the center of attention. They enjoy standing out from the crowd and being the best dressed in the room. This spotlight-stealing piece will allow them to easily make that "dramatic entrance" they love.
VIRGO
(August 23 - September 22)
Pragmatic by nature and a perfectionist at heart, Virgos can lean into their systematic approach to life by investing in a chic wrap dress. It's sophisticated enough for Virgo's "all work" attitude but still exudes a little playfulness.
LIBRA
(September 23 - October 22)
A Libra's wardrobe is always fun and flirty. They're drawn to feminine details, such as a lower neckline or lace details. A monochrome set or outfit (we're looking at you, Azalea) helps Libra maintain and find their balance through symmetry.
SCORPIO
(October 23 - November 21)
Mystery is the name of the game for Scorpio. There's a certain magnetic quality to this water sign that draws people in but this rarely transfers to outfit choices, often opting for an all-black-look. Embrace the beauty of color this summer with an added touch of tie dye to reflect your wild side.
SAGITTARIUS
(November 22 - December 21)
Free-spirited, maximalist Sagittarius is more than likely to be the friendliest at a party - think loud patterns, bold prints and statement silhouettes. Embrace your fiery instincts in the iconic Calypso dress, which caters to your needs for both comfort and freedom.
CAPRICORN
(December 22 - January 19)
Dress for success this summer in the button-down that does it all. Wear it as a layering piece for chilly nights at the beach or alone as a mini dress. Your pragmatic-self will thank you later.
AQUARIUS
(January 20 - February 18)
Bold prints and rich color palettes help express Aquarius' freedom and individuality. This independent sign never shies away from vintage-inspired silhouettes or patterns and is happy to let the outfit do the talking.
PISCES
(February 19 - March 20)
Excessively romantic and prone to fantasy, a Pisces is drawn towards dreamlike pieces. Give into the fantasy with flowy silhouettes and sweet shades of pink.