The Ultimate Summer Dress Guide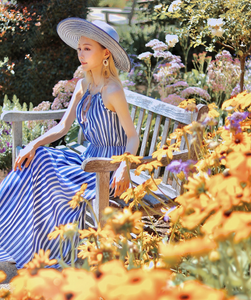 No matter how crazy and upside down the world is, we can always count on the seasons changing. As temperatures rise and days get longer, there's nothing easier or more comfortable than throwing on a summer dress. We've compiled our favorites below, for any occasion this summer!
FUN IN THE SUN
Flor Dress: Channel old Hollywood glamour with this linen wrap dress styled with a large tote bag and sunglasses for a chic day at the beach. The breathable linen fabric is perfect for a hot day outside.
Raven Dress: The ultimate summer piece - wear it belted as a dress or open as a cute beach cover up paired with your favorite swimsuit. And the best part? It has pockets.
Piper Tunic: Tunics are great summer pieces as they are casual, comfortable, and versatile. Pair it with a chic hat or headband and stylish sandals to complete your laid-back daytime look.
WORKWEAR
Dressing for the office during the hot days of summer can be tough. Keep cool and comfortable inside and outside the office this summer with a chic dress paired with a light blazer or cardigan.
Bebe Dress: You don't have to compromise your sense of style when you go to work. This silk maxi dress features just a hint of animal print at the bottom to add some flavor to your outfit. Add a light blazer or cropped jacket and pair with your favorite mules or sandals!
Ordell Tunic: Made of 100% breathable cotton with fun tassels and a gorgeous printed design, the Ordell is perfect for the office. Throw it on with a sneaker for casual Fridays or with a pair of loafers for a typical workday.
Eldoris Dress: Brighten up the office with a colorful dress that adds a little sunshine into everyone's day! A midi length dress is both trendy and office appropriate, not to mention can be styles an endless amount of ways with shoes, jewelry, and belts!
SUMMER NIGHTS
Depending on where you live, the summer nights can get pretty chilly. Take your summer dresses into the night seamlessly by adding a jacket a, jewelry, crossbody bag, and strappy sandals.
Beth Dress: This elegant silk in a gorgeous floral design and flirty knee-length skirt make this dress perfect for a romantic summer night. Keep in casual with black ankle booties and a casual black bag or dress it up a little with black strappy heels and a clutch.
Lena Tunic: Adding a pair of linen pants will instantly take your beachday tunic look into the night. The Lena tunic is easy-to-wear, comfortable but not overly baggy. It hits high on the leg so it provides great coverage during a nighttime stroll when paired with linen pants or leggings.
Emerald Dress: Maxi dresses make the perfect summer night attire! The stylish bel and sequin detailing on the sleeves paired with your favorite sandals combine to create an effortless sleek style.
Relaxing at the beach? Heading to the office everyday? Taking romantic nighttime strolls? We've got you covered. From simple tunics to the classic maxi dress, there is no shortage of Scandal dress options that will keep you the best dressed for every plan on your social calendar this Summer.
Ready to fill your closet with Summer dresses?