Scandal at Home – When Staying In is the New Going Out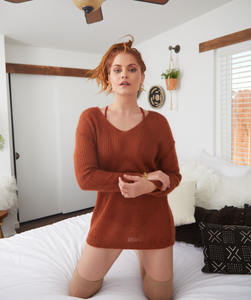 Just because we're social distancing, doesn't mean we can't be social! Keeping each other safe means coming up with new and creative ways to connect with and be together. However, just because you're at home does not mean you can't be fashionable, in any situation! We've put together a guide for your Quarantine Closet.
A Zoom happy hour is a great excuse to get out of your sweats and get dressed up. So, go grab a glass of wine or a beer and get some friends together for a virtual happy hour!
Rangiro Top: With sparkle details on the shoulder and a flowy double-layered silhouette, the Rangiro top is ideal for happy hour. Its lightweight, flowy look pairs beautifully with dark wash denim or a black pant underneath. As an added bonus, it comes with a free tank top you can wear underneath the Rangiro top that night or recovering on the couch the next morning ;)
Wildfox pants: Best part about Happy Hour from home? You get to be comfy. These high-waisted flared pants hug your hips perfectly and stretch to fit your body. They're so flattering and cozy that you won't want to take them off!
Annika Bodysuit: This crushed velvet bodysuit is both sleek and figure-flattering, making it perfect for your on-camera debut!
Whether you're hosting or simply attending a BBQ this summer, it may be the first time you've seen your loved ones in months. Eliminate unnecessary stress and make it easy on yourself by throwing on a dress or tunic and adding a few accessories.
Aruba Dress: The Aruba silk dress is fabulous for any summer occasion. Add a straw hat or cinch your waistline with a stylish belt - no matter how you choose to style the Aruba dress you're guaranteed to look posh.
Bowzer Dress: For a daytime BBQ opt for a shorter length dress to keep cool. Trimmed with lace and small acrylic beads, the Bowzer dress is certainly a one of a kind piece. Pair with heeled mules or jeweled sandals and add an over the shoulder bag.
Fut Dress: Transport yourself back to the Roaring 20's with our best-selling Fut dress. With silk tiered details and a flattering silhouette, this gorgeous maxi dress is a must-have this season. For an edgy look, style with a cropped moto jacket and a pair of beaded sandals or keep it boho with a jean jacket and a pair of chic suede booties or gladiators.
Instead of watching yet another movie, pull together your quarantine team, whether it be your family, partner, or roommate, and get your game on! Whether you're playing Monopoly, Scrabble, or Twister you'll want to take advantage of cute yet comfortable pieces.
Persia Pants: Luxurious silk paired with a fun pattern and unique colors make these the perfect pant combination.
Maluka Pants: The Maluka Pant features an adjustable tie waistband, a slim leg and a tapered silhouette. Comfy and cute has never been so easy!
Ceci Top: The Ceci top features a front pocket and long sides that drape over the hips to flatter your body. This multipurpose basic is perfect for a chill night in.
Support your local eateries and order take out or delivery for you and your household. You can even re-create the ambiance of your favorite restaurant by playing mood music and adding candles, flowers, or place settings to the table.
Diva Jumpsuit: Jumpsuits are a simple way to look effortlessly elegant. This velvet beauty has pleated details on the bottom as well as a tie belt that accentuates your waistline.
Becca Pants: These Aztec print Becca pants are the perfect piece to dress up or down. The fit is loose with a sexy slit at the bottom outside of both legs. The adjustable waistband means that you can have your takeout, and eat it too! ;)
Farandole Skirt: The Farandole skirt is absolutely fabulous! It compliments every woman's figure with tiered silk panels that flounce when you walk.
Dressing up and connecting with loved ones can really boost your morale during this time. And remember: One can never be overdressed in one's own home.